Radio Frequency Treatment for Cellulite & Skin Laxity
NuEra™ tight
NuEra tight is a temperature-controlled radio frequency (RF) skin smoothing system with the power to redefine the future. The power to target and revive, to uplift and to perfect all over.
NuEra is FDA-cleared for RF heating, both superficial and deep, to treat a variety of conditions such as temporary reduction in the appearance of cellulite.
Patients Will Experience:
Smooth look
Treatment comfort
Satisfying results
How Does Cellulite Treatment with the NuEra Tight work?
First, thermal energy heats up the fat cells that cause skin dimpling. This stimulates the metabolism of adipocytes, essentially shrinking the fat cell.³ Secondly; the thermal energy stimulates the body's natural rejuvenation process. It responds by increasing blood circulation, remodeling the connective strands and constricting tissue fibers. This fortifies the interior structure of the skin and strengthens the septae (the connective tissue strands that hold fat in place and keep it from protruding out.) Another component of the body's natural skin rejuvenation mechanisms is the creation of more collagen. This structural protein provides scaffolding for the skin to keep it taut, firm, flexible and youthful-looking.²The NuEra Tight from Lumenis utilizes advanced Radiofrequency (RF) technology to stimulate the body's natural healing mechanisms. During the quick and convenient treatment, RF energy is delivered to the treatment site. The RF energy penetrates the skin, heating the tissue on a superficial and deeper, more cellular level. The thermal energy helps reduce the appearance of cellulite in several ways.
The result is unprecedented skin rejuvenation, reducing the appearance of cellulite while also smoothing and tightening the skin.
What Areas Can NuEra Treat?
NuEra's advanced temperature-controlled technology permits unmatched versatility and customization. With it, your beauty tech can perform head to toe skin tightening, skin smoothing, and cellulite reduction. Popular treatment areas include:
The abdomen
The flanks
Thighs (inner and outer)
Buttocks
Upper arms
Bra and back fat
The area around the eyes
The mouth
The checks
The neck and décolletage
Depth and power perfect: Top-to-toe targeted skin smoothing
NuEra tight is a non-invasive RF solution to improve the appearance of cellulite and skin laxity, with consistent results and without downtime. NuEra tight emits powerful RF waves at 470kHz with high 250W power, to heat the skin's surface superficially or reach deeper tissue levels. By using the precise frequency and depth of heat, you can treat a variety of conditions with different levels of severity and on different areas of the body and face. NuEra tight optimizes treatment efficacy on the abdomen, flanks, buttocks, inner and outer thighs, upper arms, bra and back fat, as well as around the eyes, mouth, cheeks and neck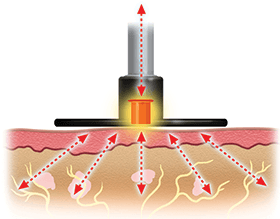 NuEra tight RF emits at a low 470kHz frequency to infiltrate deep down for deeper skin tissue penetration and better thermal effect and results.
Success for face, neck and body
NuEra tight treatment is comfortable and pleasant to receive. As the skin's temperature rises to the target temperature, the RF output automatically adjusts for precise heating, thanks to the APIC technology. Treatment is fast and efficient, taking around 10-15 minutes to treat facial areas and around 20-25 minutes to treat body areas
Impressive results with NuEra