Botox Cosmetic Treatments
Laughter, sadness, anger and surprise…your face shows all of your emotions to the world. And a lifetime of emotions means your facial muscles have been put to the test, leading to wrinkles, crow's feet, and laugh lines.
All these signs of emotion can leave you looking older than your years but thanks to today's technology, we can significantly reduce their appearance on your face. With BOTOX® Cosmetic treatment, you will be able to see a visible improvement to the wrinkles on your face and you'll have smoother skin for up to four months.*
We administer small injections directly into the area you'd like to improve. If you're concerned about pain, or have sensitive facial areas, we'll be happy to apply an ice pack or anesthetic cream to the area we'll be working on.
The purified protein from the injection goes to work immediately on the facial muscles that are causing wrinkles. You will begin to notice visible improvements over the next month.
BOTOX® Cosmetic treatments can improve:
Worry lines in forehead
Lines between the eyebrows
Smile lines
Laugh lines, from nose to mouth
Crow's feet
Contact our office to learn more and schedule a consultation with Dr. DeRosa.
Take a closer look
You know you want to BOTOX® Cosmetic (onabotulinumtoxinA) is the only FDA-approved treatment to temporarily improve both moderate to severe frown lines between the brows and crow's feet in adults. You can get treated in both areas at the same time— that's the beauty of BOTOX® Cosmetic.
Ask your doctor about BOTOX® Cosmetic today!
What to expect
How does it work?
BOTOX® Cosmetic (onabotulinumtoxinA) targets one of the underlying causes of frown lines and crow's feet— the repeated muscle contractions from frowning and squinting over the years. BOTOX® Cosmetic temporarily reduces this muscle activity so you'll begin to notice a visible smoothing of these lines.
For temporary improvement of moderate to severe crow's feet, your doctor will inject BOTOX® Cosmetic into the muscle surrounding the sides of your eyes— called the orbicularis oculi muscles.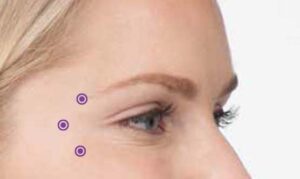 For temporary improvement of moderate to severe frown lines, your doctor will inject BOTOX® Cosmetic into 2 muscles—the corrugator and procerus muscles.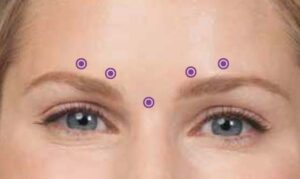 Get more answers
Will I look overdone?
BOTOX® Cosmetic (onabotulinumtoxinA) is a techniquesensitive treatment. You should not lose the ability to show expression when you are treated by someone who is licensed, trained, and a medical expert in facial anatomy. It is important to talk to your provider about the results you want from treatment.
Does the treatment hurt?
Some patients report that being injected with BOTOX® Cosmetic feels like a pinch. Your provider may use ice to numb the treatment area. If you are concerned about discomfort, your provider may apply a topical numbing cream before administering your treatment.
How long does treatment take?
The treatment takes approximately 10 minutes and requires minimal downtime or recovery—it's often called a lunchtime procedure.
What were common side effects seen in clinical studies?
Three percent of patients experienced eyelid drooping in the frown lines studies and 1% of patients experienced eyelid swelling in the crow's feet studies. Other possible side effects include: discomfort or pain at the injection site; headache; and eye problems: double vision, blurred vision, drooping eyelids, and swelling of your eyelids. These are not all of the possible serious side effects of BOTOX® Cosmetic. Please talk to your provider and see
The only one approved
to improve moderate to severe crow's feet lines
Actual patients. Results may vary. Photos taken at full smile before and after treatment with BOTOX® Cosmetic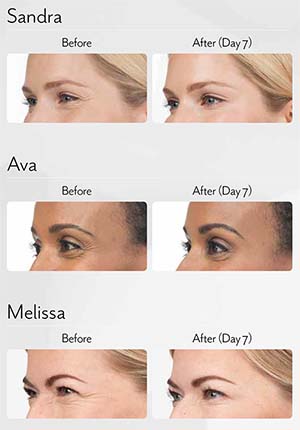 Proven to last up to 4 months
in moderate to severe frown lines
Physician-reported response of 25% (102/403) vs 2% (2/128) for placebo. Results may vary.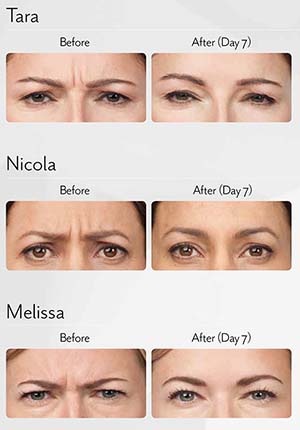 *Results May Vary